The JeruFun bicycle rental service on Saturday and/or holidays
Please note that on the Jewish Sabbath and/or festivals, JeruFun will provide a limited rental service.
On these occasions, electric bikes will only be available for rent and subsequent return at some bike stations throughout the city.
Regular bike rental will be available as usual on the Sabbath/festivals at all bike stations. 
The limited service will begin 30 minutes before the Sabbath and/or a holiday begins and return to regular service 30 minutes after the Sabbath and/or holiday ends. During this time, electric bikes will only be available for rental and subsequent return from a limited number of bike station locations announced in advance by the company on the JeruFun website and app.
The locations of these available bike stations will be updated from time to time, and we recommend that you consult the website to check the availability of electric bikes.

Currently the only stations available on Saturday and/or holidays are:
1.Station No.701 "The First Station", adjacent to the Mesila Park
2.Station No. 762 " Begin Heritage Center", 6 Sh. A Nakhon Street
3.Station No. 732 "The Theatre", 20 David Marcus Street
4.Station No. 724 "Israel's museum", Ruppin road
5.Station No. 764 "YMCA", 26 King David Street
6. Station No. 763 "Hadar Mall", 26 Pierre Koenig Street
7. Station No.765 "The Hebrew University", Churchill Avenue
8. Station No. 766 "Mount Scopus-Student Village", 1 Ghetto Fighters Street
9. Station No. 767 "Rami Levi-Talpiot", 3 Haparsa Street
10. Station No. 768 "The Israel youth village", 61 Shai Agnon Street
11. Station No. 773 "Azrieli Mall", 1 Derech agudat sport beitar Street
12. Station No. 776 "Ramat Beit HaKerem", 1 Avizohar Street
13. Station No. 777 "Azrieli college of engineering", 26 Yaakov Shreibom Street
14. Station No. 726 "The University", Balfour Road
15. Station No. 710 "International Convention Center", Shazar Eve. corner of the sixth president at the parking lot.
16. Station No. 785 "Dania Squared", Herzl Ave. 111
17. Station No. 786 "Bank of Israel",Bank of Israel 2
18. Station No. 787 "The Biblical Zoo",The Biblical Zoo in Jerusalem




Electric bike stations that are not available on the Sabbath and/or holidays will appear on the app with the following icon: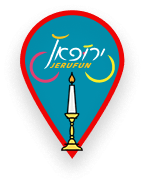 If you have further questions, please check the FAQ section or contact us.
We wish you a comfortable, enjoyable, non-polluting ride around Jerusalem, free from traffic and the search for a parking space!
JeruFun – Cycling in the City!